Google Business Listing $99
Stop Overpaying for Lawyer Website Services!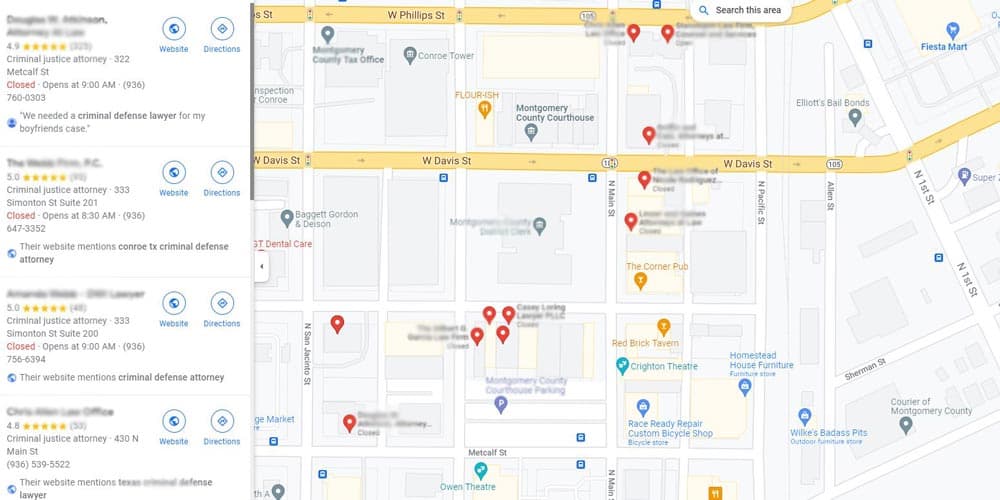 Google Business Listing: Be found as a pin on the map
The Google Business Listing aka Google My Business aka Google Business Profile – all refer to the same service Google provides to businesses.
Google has localized their search engine results for several years: Whatever you search for, close-by businesses will show first on a map next to your location. Businesses can display important information, like services provided, opening/closing times, contact details or a link to the website. Recently Google has also released a new feature allowing you to post a link to products, articles, or up and coming events.
However, one of the most important features is a up to five star evaluation of reviews posted by users.
Do not miss this opportunity!
Google Business Listing (aka Google My Business) has become so important because it's often the first thing your customers notice when they search for your business. While we include setting up the listing in our website packages, we are also offering GMB set up services to all law firms now. We include a walk-through, in some cases also a article posting service.
Please contact us at 800.929.5439 or email us.
We Serve Small Law Firms and Solo Practitioners
We have examined the costs of web design services for attorneys and found many of them overpriced and not suitable for small law firms. A price tag of $5,000 – $10,000 might be industry standard, but extremely high compared with other industries. This typically does not cover recurring monthly or annual costs.
At  AWebsiteForLawyers.com affordable lawyer websites are our passion – after ten years in business, we stick to our promises:
An attractive web presence with all of the features that a small law firm needs still runs less than $1000
You will receive a custom design for a template price
Talking to our staff you will never ask yourself if you are "talking to a car dealer" (a lawyer's complaint about a big lawyer directory)
We will never sell you features you do not need
You will be found on search engines within days
All our packages and bundles include Business listings on Google, Yahoo, and Bing
All our packages and bundles include on-site search engine optimization
If you are a solo practitioner or own a small law firm – give us a call. Our 30 minute consultation for affordable lawyer websites is free and without obligation.
I'm saving over $30,000.00 this year: How I got my website back
"I'm embarrassed to say how much I was paying XXX* for ever shrinking results. Once I became aware of the money I was wasting, I became aware of the OTHER problems: How do I get my website and domain away from XXX*?
How do I convert my firm website from the XXX* web platform to a real website?
After searching blogs and trying to talk to various SEO and Website developers who work with lawyer web marketing I was surprised at how hard it is to get a timely response from any of them. I contacted many. Some only wanted to talk by email. When I could actually get others to call me on the phone, selling was their priority, but follow-up was hard to come by. Most were slow to respond.
Call-Back Within an Hour, All Questions Answered
Except one. Matt at awebsiteforlawyers.com responded to my initial email within an hour. Then he took almost an hour to talk to me and patiently answered ALL my questions. I got a good feel for how I was trapped with XXX*. Then he was able to recreate and vastly improve on my XXX* website.
A few weeks later, awebsiteforlawyers.com helped me gain control over my domain from XXX*.
I was worried that the switch from XXX* would cause a long drop in search engine page ranking and fewer clients. The opposite happened. I currently have eighteen Google first page listings for important search terms!
My website is www.brentwdavis.com. It is attractive, clean and modern. New clients often remark on how nice my website looks as compared with my competition.
Costs Are Down, Profit Is Up.
Today my web marketing is cost efficient and effective. My profit margins are up and my page ranking is far better than with XXX*. I'm saving over $30,000.00 this year on web marketing."
*Lawyer directory name removed by AWebsiteForLawyers
Brent W. Davis
Birmingham, Alabama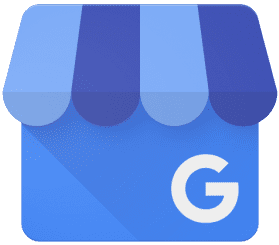 You Got Me Interested. Can You Take Care of My Site?