Immigration Lawyer Websites
Custom Websites for
 

Immigration Attorneys with SEO and Expert Content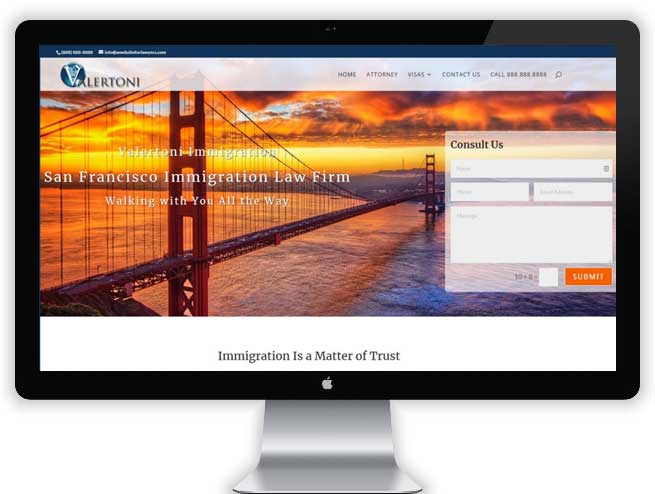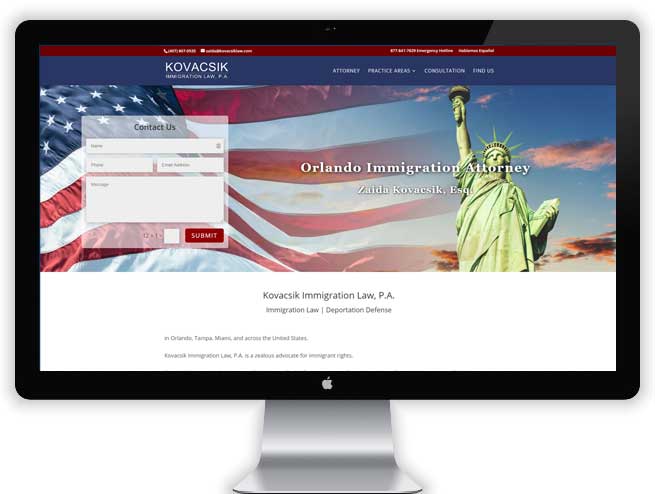 AILA Member Website Specials:
We build and optimize Immigration Lawyer Websites since 2005!
Our 15+ year experience in building and search engine optimizing websites for immigration lawyers has paid off for many clients – most of them have premium rankings on Google and are getting more exposure than their competitors who pay thousands more.
What sets AWebsiteForLawyers apart is the all-in-one price, the low annual costs and our availability and care for your site.
Our clients are delighted with the service they receive. We include a free Google Business Listing, so your firm appears on local Google searches!
A Must-Have: Immigration News
We think that any U.S. immigration lawyer should inform their clients about the latest development in U.S. Immigration law. Our multi page immigration lawyer websites come with a free 3-6 months trial of our Immigration News plugin.
Looking for a great domain name that has been around for a while? Check out our Premium Domain Names.
Choose from the packages below or call 800.929.5439 for a custom solution:
Starter
One Long Page to get Started
One Page Vertical Scroll

Call button for Smart Phones

Up to 10 Vertical Elements

Your content, we optimize
Google Business Listing
Free Domain, Hosting 1yr
Animated Home Page

Mobile Friendly w. Call button

Five Pages
Your content, we optimize
Google Business Listing
Immigration News 90 days
Free Domain, Hosting 1yr

Additional page $150
Jump Start
Including Expert Copy
Animated Home Page

Mobile Friendly w. Call button

Twelve Pages

Expert Content with SEO

Google Business Listing
Bing/Yahoo Business Listing
6 months Immigration News
Free Domain, Hosting 1 yr

Additional pages for $150/each
Premium
Expert Copy and Blog
Animated Home Page

Mobile Friendly w. Call button

20+ Pages

Expert content with SEO

Google Business Listing
Bing/Yahoo Business Listing
Your Blog! (Best for SEO)
6 months Immigration News

Original price: $2,699

Ask to pay in installments

Free Domain, Hosting 1st yr
Pricing for websites similar to or derived from our design samples; client provides content unless stated otherwise. Client provides premium images. Special custom design and content writing optional for additional fees.
 Our Websites for Immigration Attorneys Include: 
An appealing custom design.
AILA member recommended client intake form – customized for your office!
Prospective clients 

for your immigration practice

can fill out a consultation form. You receive the details right into your mailbox and can get a brief overview of their case before contacting them. Our recommended form contains 25 details to be provided; we will adjust to your needs.
Expert content customized for your firm

(Jump-Start or Premium package)

, showing your expertise in 

United States immigration laws

.
Depending on your needs, we can provide detailed copy of visa and immigration-related content like:
Family Sponsorship, Fiancee and Spouse Visa, International Marriage, Deportation Defense, I-601 Waiver, Asylum, Labor Certification, Employment-based Immigration, Temporary Work Visa, DACA, E-Visa, I-9, Permanent Residency, EB-5 Investor Visa, Citizenship and Naturalization, and much more.
SEO Search Engine Optimization for Google, Bing, and Yahoo
Google Business Listing on Local Maps Search (a $100 value)
Clear and easy navigation, so visitors find what they are looking for.
Expand your immigration attorney website anytime with additional pages for other practice areas or with our add-ons (Jump-Start or Premium package).
Free login to your case management system
Free submission to search engines
Free domain service: together with you, we choose a domain name and register it for you
Premium domain names available
High-Speed Hosting – first year free
Recurring charges: $240/year 

No hidden costs
Your efforts for me were outstanding

"Thank you for a quick, efficient and very professional web site that you created for me.
You created my web site, including revisions and additions, in a mere six (6) days. It is very professional looking, and very interactive for potential and existing clients. I think your efforts for me were outstanding, and I will be happy to recommend you to all of my associates in the legal profession."

Alfred G. Morici, JD, LLM West Palm Beach, Florida
For more details and custom quotes please drop us a line.