Website Redesign
If visitors do not stay on your site, consider a website redesign.
If they don't find you, consider optimization.
We offer both together for amazing prices.
Is your website more than four years old?
Web design is constantly changing, requirements for great user experience are changing, so your site needs to be adjusted:

Computer screens have become much wider and show almost double the content than they did four years ago. The average width of a website is now wider than a laptop screen in 2014.

Mobile devices make a big part of the devices used to browse your site. Now visitors use a tablet or smartphone to search for services. Make sure that you don't miss out on those clients.

Designs are changing: Since several years big "hero images" dominate all landing pages

Social Media accounts have become a part of search engine algorithms.

Calls to action are now a must in website design.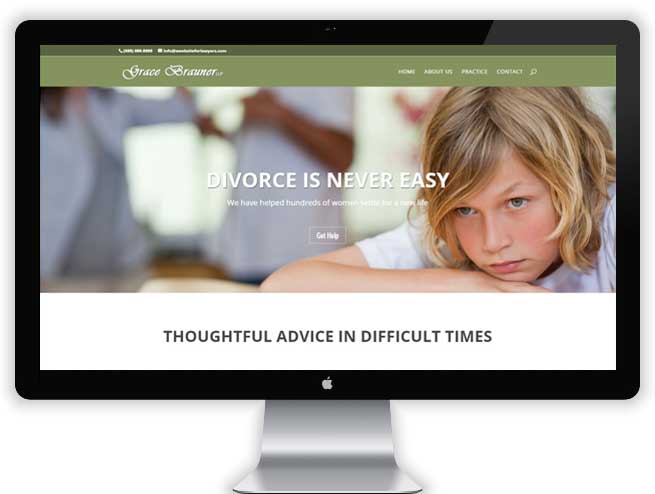 Redesigning your site costs less and usually pays off within weeks.
The website redesign process including optimization of your lawyer website start with a thorough analysis of your existing website:
How are website visitors behaving on your site?
Are they browsing your website content or leaving immediately?
This is typically indicated by the bounce rate. A cluttered design confuses visitors. Potential clients want to find what they are looking for in seconds, or they turn away.
We create clear, spacious designs that are a joy to look at and don't make people wonder where to go.
Is your site search engine optimized?
If your website doesn't attract clients, it is not optimized to be found, you are missing out on potential clients and fall behind your business goals.
Costs of optimization are usually paid off with the first client finding your site.
What are your positions for the 5 most important keywords?
Get a before/after list of your positions on Google.
Are you targeting the right key phrases?
One of the most important aspects of Search Engine Optimization (SEO)  is research: what are the right key phrases for your website?
We make sure potential customers find what they are looking for.
Would you like to be able to edit your site content?

Today, a content management system like WordPress is standard. 
How Much Does a Website Redesign Cost?
The cost of your website redesign project depends on what kind of marketing agency you hire, and other factors:
Is the existing website on a platform that allows easy design upgrades?


If your existing site is WordPress based, your content does not need to be exported or transferred.

Is the search engine optimization up-to-date? Requirements change, rankings change. You might have to review your texts with our guidance.
Do you need to add landing pages that require special design or coding? In digital marketing, if you have a variety of different services it sometimes makes sense to categorize them and create a dedicated landing page for a category.
What is the traffic on your site?
Did you previously hire an agency that considered quality hosting?
Nine first page listings on Google

"AWebsiteForLawyers has always been very helpful and answered all my questions and concerns. Now they offered me a website redesign combined with search engine optimization for a tempting price. Two weeks later I found myself with nine first page listings on Google, four of those on the first position. Within one week one new client has already paid off my investment."

Judith Ashbaugh, Tulsa Immigration Attorney
Thinking Website Redesign? Let Us Have a Look. Get a Quote.